This Agreement is made, entered into and executed at New Delhi, India on current date (hereinafter referred to as the "Effective Date").
BETWEEN:-
Appcarry Private Limited (hereinafter referred to as "Appcarry") having Registered Address: -1 B1/A5 First Floor Mohan Co-Operative Industrial Estate, New Delhi, Delhi – 110044 AND you (hereinafter referred to as "Client"). If you are entering into this Agreement on behalf of a company or other legal entity, you represent that you have the authority to bind such entity to these terms and conditions, in which case the term "Client" shall refer to such entity;
WHEREAS the Appcarry is Customizable Performance Marketing Software used by Ad Networks, Agencies and Advertisers to manage publisher relations. The Appcarry Performance Marketing Platform enables Clients to create, automate, measure, and optimize all of your marketing Campaigns, Publishers, and advertisers, creatives and conversions in one place;
AND WHEREAS the Client is interested in availing of the web analytics services offered by Appcarry, by registering for a user account online at Appcarry.com;
NOW, THEREFORE, for and in consideration of the mutual promises, benefits and covenants contained herein and for other good and valuable consideration, the receipt, adequacy and sufficiency of which are hereby acknowledged, Appcarry and the Client, intending to be legally bound, hereby agree as follows:
Definations

AD SERVING is the process of delivering an ad to be shown in a web page or a mobile app.
ADVERTISERS Companies (apps, brands) that have an product or service they want to promote.
AD IDENTIFIERS are unique character strings associated with user devices that help monitor and measure user interactions with advertisements and apps.Examples of Ad Identifiers include IDFA (developed by Apple for the iPhone), Google Ad ID (developed by Google for Android), and Windows advertising ID (developed by Microsoft for Windows Phone). Each of these Ad Identifiers can be reset by the user.
AFFILIATE/PUBLISHERS: An Affiliate/Publisher is any website that displays advertisements on behalf of an Advertiser. The terms Affiliate and Publisher can be used interchangeably.
AGREEMENT, TERMS OF SERRVICE and USER AGREEMENT refers to the Terms of Service Agreement contained herein below and other policies referred/annexed herein.
CLICKS refers to when a User "clicks" on the advertisement and goes to the offer's page.
CLIENT, USER, YOU and YOUR are end users, specifically individuals on websites or mobile apps that see and potentially interact with Appcarry and have accepted the Company's Terms of Service. It may include individual employees of a Appcarry client.
COMMENTS means user opinion that can be provided on certain parts of Appcarry website, including but not limited to user's posting and exchanging of opinions, information, material and data.
CONVERSIONS happen when the User completes the "offer" (e.g. making a purchase on an e-commerce site, installing a mobile app, filling out a survey, or doing some other action).
COOKIES are small text image files stored on your computer either temporarily or permanently to allow websites to recognize users and keep track of their preferences. While PIXEL TRACKING are website based and usually work in conjunction with cookies. They register when the User visits a particular page.
CONTENT means all information, data, text, audio, graphics, video, messages, images, reports, advertisements, software code, design, and the collection, arrangement and assembly of content, contains Third Party Service Providers' content.
GEOGRAPHIC LOCATION DATA can either be precise (identifying the end user's precise location) or imprecise (identifying the end user's city or country). In Appcarry we collect imprecise geographic data through IP address and/or wifi networks in the end user's vicinity. We collect this data to help our clients provide more relevant advertisements and content, and to ensure we comply with country specific requirements.
IMPRESSIONS occur when a User sees an ad for an Advertiser on a Publisher's site or app.
INVENTORY is website or mobile app traffic from Users that can be used for advertising
IP ADDRESS is a numerical label attached to any device that connects to the Internet. Most IP addresses are dynamic i.e. the device's IP address changes and is not persistently tied to any one device. Appcarry clients may opt to masking IP addresses from certain jurisdiction.
KYC means know your User, whereby an organization can demand for identity proof to establish the identity of a User.
NETWORK are brokers between mobile advertisers and publishers.
PARTY or PARTIES refers to both the Client and ourselves, or either the Client or ourselves.
POSTBACKS are server-to-server communications between parties (generally through an API).
PROFILE or "User Profile" refers to your personal information submitted at the time of registration at Appcarry, that appears on your profile page.
PROPRIETARY or CONFIDENTIAL INFORMATION shall include but is not limited to, written or oral contracts, trade secrets, know-how, business methods, business policies, memoranda, reports, records, computer retained information, notes, or financial information.
REGISTRATION DATA refers to the information to be provided in the registration form that includes name, email, location and contact and any other information provided later, which except the sensitive information may also form part of your User Profile.
SENSITIVE INFORMATION of a user means such personal information which consists of information relating to password, financial information, etc as defined under the Information Technology Act and rules thereunder.
SITE or WEBSITE refers to the website www.appcarry.com.
THE COMPANY, OURSELVES, WE and OUR, refers to our Company Appcarry, which is an Intermediary under the Information Technology Act and Rules there under.
WEB ANALYTICS is the measurement, collection, analysis, and reporting of web data for the purposes of understanding and optimizing web usage; the study of web usage behaviors. Other terms would have the meaning as defined under Information Technology Act, 2000 and rules made thereunder or otherwise as per the dictionary meaning.

Agreement

Last Revision: 25 AUGUST 2023

PLEASE READ THIS TERMS OF SERVICE AGREEMENT CAREFULLY. BY USING THIS WEBSITE OR ORDERING OF SERVICES FROM THIS WEBSITE YOU AGREE TO BE BOUND BY ALL OF THE TERMS AND CONDITIONS OF THIS AGREEMENT.

This Terms of Service Agreement governs your use of this website, Appcarry.com. Before you opt to access the Website or avail the services made available through this Website by Appcarry, please carefully go through these Terms of Service and the accompanying documents referred herein below. These Terms, Billing, Privacy & other Policies together constitute a legal agreement between you and Appcarry in connection with your visit to the Website and your subscription to the Services. Compliance with these Terms of Service would entitle you to a personal, non-exclusive, non-transferable, limited privilege to access and avail exclusive services at Appcarry.

Appcarry provides solutions for performance marketers. Appcarry is the performance marketing platform, used by mobile and desktop networks to manage their online advertising relationships. Clients use Appcarry to assess the effectiveness of their Affiliate and Publisher relationships – by measuring User clicks and conversions.

Though you can browse through limited information upon the website in order to make proper use of the Appcarry.com, you must be a registered user of the Site. In any case, you agree that, by the access to the Appcarry.com website at any point or by completing the account registration process and clicking the SignUp/Submit button, you will be bound by this Terms of Service Agreement. We intend this to be the legal equivalent of your signature on a written contract, and equally binding.

Furthermore:
Appcarry services owned and operated by Appcarry Private Limited, New Delhi, India, a company duly incorporated under the provisions of the Companies Act, 2013 is provided to you under the terms and conditions of this Terms of Service Agreement and any other operating rules or policies that may be published by us on the website from time to time.
All the terms set here are presented in the English language and it is the sole responsibility of the user to understand these terms accurately in the language he understands. You must read, understand and agree with and accept all of the terms and conditions contained in these Terms, which include those terms and conditions expressly set out below and those incorporated by reference before you use services or register at this website.
Appcarry encourages you to review this Agreement whenever you visit the Website to make sure that you understand the terms and conditions governing the use of the Website. This Agreement does not alter in any way the terms or conditions of any other written agreement you may have with Appcarry for other products or services. If you do not agree to this Agreement (including any referenced policies or guidelines), please immediately terminate your use of the Website.
Appcarry authorizes you to view and access the content available on the Website solely for the purposes of availing the Services, such as visiting, ordering, accessing, receiving, delivering and communicating as per these Terms of Service.
We reserve the right to change or revise the terms and conditions of this Agreement at any time by posting any changes or a revised Agreement on this Website. You should always review them prior to using the Site. In case, any modification to the agreement is unacceptable to you, your only recourse will be to terminate this agreement. In case you continue to access any of our services after that time you will be deemed to have accepted any change.
These Terms of Service constitute an electronic record in terms of the Information Technology Act and Rules framed thereunder, as applicable and amended from time to time. This electronic record is generated by a computer system and does not require any physical or digital signatures. If you would like to preserve/print this Agreement, please click the print button on your browser toolbar.
You further understand that the Appcarry is just an Intermediary in terms of Information Technology Act 2000 and is exempt from any liability in terms of Section 79 of the Information Technology Act, 2000 and rules thereunder.
Billing & Refund Policy
For availing any services at Appcarry, you need to have a registered account with us, at the website by following Sign Up link.
Our plans have been indicated on the website under the Pricing section, which has been categorized as Pro, Agency and Enterprise, with different pricing depending upon the features offered under each of them. The billing details have been provided under Billing Policy.
At Appcarry.com, we do our best to ensure that you are completely satisfied with our products/services but still, situation may arise for you to cancel the plans/services. The refund is available only to Individuals in case account/plan is cancelled within 14 days of first payment.
Please refer here for the detailed Billing / Refund Policy applicable to Appcarry Clients, provided under Billing Policy.
User Eligibility
To be able to use any services offered by Appcarry, you need to be of competent to Contract in terms of Indian Contract Act, 1872. If you are a minor, i.e. below 18 years of age in India or below the majority age as per the laws of your country, you may use the services only during the trial period. Appcarry reserves the right to ask for proof in support of age or even terminate your membership if it is brought to our notice that account was created by providing age falsely.
Appcarry also reserves the right to ask for a copy of government ID for KYC purposes.
You confirm that any court, tribunal or any adept authority does not prohibit or impose any kind of restriction/conditions/order to enter this Agreement or online services of nature and function similar to ours.
Lastly, you confirm that you are not violating any applicable law by entering this Agreement. We reserve the right to terminate your services and refuse to provide access to the Site in case of any such violation.
Registered Users
You understand that Appcarry services are made available to you subject to registration upon the website in terms of these Terms of Service. Further,
You are liable to provide true, accurate, updated and complete profile at Appcarry.com and regularly maintain and promptly update the Profile to keep it true, accurate, updated and complete, failing which your account can be de-activated/disabled;
You are expected not only to comply with these Terms of Service but also applicable law of the land as well, as may be applicable in your jurisdiction;
Account Restrictions
In terms of the Information Technology Act and rules thereunder, you would not host, display, upload, modify, publish, transmit, update or share any information that —
Belongs to another person and to which the user does not have any right to unless you have written consent from the owner of the copyrighted material;
Is grossly harmful, harassing, blasphemous defamatory, obscene, paedophilic, libellous, invasive of another's privacy, hateful, or racially, ethnically objectionable, disparaging, relating or encouraging money laundering or gambling, or otherwise unlawful in any manner whatever;
Harm minors in any way;
Infringes any patent, trademark, copyright or other proprietary rights;
Violates any law for the time being in force;
Deceives or misleads the addressee about the origin of such messages or communicates any information which is grossly offensive or menacing in nature;
Impersonate another person;
Contains software viruses or any other computer code, files or programs designed to interrupt, destroy or limit the functionality of any computer resource;
Threatens the unity, integrity, defence, security or sovereignty of India, friendly relations with foreign states, or public order or causes incitement to the commission of any cognisable offence or prevents investigation of any offence or is insulting any other nation.
Is false, defamatory or libelous, inaccurate, abusive, vulgar, bigotry, hateful, harassing, offensive, obscene, profane, threatening, promoting racism, promoting illegal activities, promoting physical harm of any kind against any group or individual, invasive of a person's privacy, adult material including pornography, or otherwise in violation of any Indian or International Laws.
Account Obligations
You agree:
You will use the Appcarry services only for the purpose that are permitted by the aforesaid Terms and any applicable law, regulation or generally accepted practices or guidelines in the relevant jurisdiction;
Your Appcarry account and the activity under it are subject to review from time to time by the Appcarry. On the basis of the Appcarry's report, your account may be blocked or may become subject of deletion if found to be transmitting objectionable, obscene or offensive material or links to the same or otherwise found to be indulging in violation of the Code of Conduct, without any prior notice to you;
You hereby agree to assume sole responsibility for maintaining the confidentiality of the issued account and password at Appcarry and for restricting access to your Computer and the computers of your employees, officers, agents and password. You further agree to accept responsibility for all activities that occur under your account or via the use of your password.
Appcarry reserve the right to reject any information/data posted over the website without assigning any reason and make all such modifications/editing to the information submitted in order to fit into the database;
Appcarry at its own sole discretion and at any time, may set limitations on the number of transmissions you may send or receive through the Services or on the amount of storage space that can be used for the provision of trial service and as a result some features may be blocked or information deleted;
If your Appcarry account is blocked in any circumstances including as provided under the terms, you may be prevented from accessing all the services available under this website. Further, you agree that you may not try to register another account under an anonymous/fictitious name to get access to the site otherwise for any purpose whatsoever;
You are solely responsible for utilizing industry recognized software to detect and disinfect viruses, spyware, malware, and other harmful or otherwise undesirable components from any downloads that may jeopardize the security of your account or otherwise cause harm
You must promptly notify Appcarry of any unauthorized use of your account at Appcarry or otherwise a breach of security related to the Services, including but not limited to unauthorized use of your password or account. To help ensure the security of your password or account, please sign out from your account at the end of each session.
Code of Conduct
You agree not to indulge in any kind of Social Engineering or any act of data mining in a bid to find any information of the registered users at Appcarry.com or build and distribute any data related to Appcarry users in any other manner.
You will not rent, lease, trade or sell access to the Services or related information or data. Otherwise, also sell, sponsor, or otherwise monetize Appcarry user details or any other feature of the service, without our consent.
You agree to not (and permit anyone else to) copy, modify or extract the source code of the service or any part thereof. You further agree that you may not indulge in any kind of process, which may be termed as work of Reverse Engineer unless this is expressly permitted or required by law or unless you have been specifically told that you may do so by us, in writing.
You will not use the Service to distribute or upload any virus, trojan horses or do anything else that might cause harm to the Service, our systems or to other users' systems in any way.
You agree to not use the platform for any kind of promotion or spam or chain letters, unsolicited messages or any other related activity through the use of Appcarry services.
You will not solicit passwords or personal identifying information for any purposes from other users or try to crack the password of other users, which would be termed as a hacking attempt.
You agree that you will not engage in any activity that interferes with or disrupts the Appcarry Services (or the servers and networks, which are connected to the Services).
User Generated Content
The clients use Appcarry platform to analyze/optimize the performance of AD campaigns and assess the effectiveness of their Affiliate and Publisher relationships. Appcarry does not play any role in the process but only provide a platform as an Intermediary, i.e. the users/clients input the data at their end, while the reports are auto generated at Appcarry platform. Further, certain parts of the website may offer the opportunity for users to post and exchange opinions, information, material and data. Appcarry does not screen, edit, publish or review the user generated content prior to their appearance on the website and such content do not reflect the views or opinions of Appcarry, its agents or affiliates, but of the person who posts such view or opinion. To the extent permitted by applicable laws, Appcarry cannot be held responsible or liable for the use of it's platform by its clients/users or for any loss cost, liability, damages or expenses caused and or suffered as a result of any use of and/or posting of and/or appearance of any content on this website by a user. Appcarry reserves the right to monitor all the content and to remove any content, which it considers in its absolute discretion to be inappropriate, offensive or otherwise in breach of these Terms of Service. You warrant and represent that:
You are entitled to input/post the data/content on our website and have all necessary licenses and consents to do so;
The content does not infringe any intellectual property right, including without limitation copyright, patent or trademark, or another proprietary right of any third party;
The content do not contain any defamatory, libellous, offensive, indecent or otherwise unlawful material or material which is an invasion of privacy
The content will not be used to solicit or promote business or custom or present commercial activities or unlawful activity.
Further, you hereby grant to Appcarry a non-exclusive royalty-free license to process, use, reproduce, transfer, store and edit any of your content in any and all forms, formats or media for internal purposes. This clause is further subject to the Privacy Policy available here as we do not share or intend to share any confidential information with a third party.
Retention & Backup Policy
The logs and user data would be retained as a backup in Appcarry server for at least 3 (three) months from the date of its creation or for such a period as may be required by any government agency. And otherwise also, we may retain such information in our systems but for a limited period, which may help not only in complying with the laws of the land but also to make sure that we maintain enough backup of user accounts, which may either be required to be restored to the server in unforeseen circumstances or make available the information to the enforcement agencies, in case of any specific requests received in accordance with the law of the land.
In case of any technical difficulty in the system, we will have a backup available with us to restore the Data to the main Server. But in case of exceptional circumstances, it cannot be assured that we will always have at all times backup available with us. Further, you as a Appcarry user agree that in no case, Appcarry can be held responsible for the loss of data in any circumstances.
Abuse Policy
The Services provided to you as a registered user by Appcarry may only be used for lawful purposes. That is, when you sign up for Appcarry, you agree not to use the account to post spam, distribute viruses, scam anyone or otherwise abuse the service, which is provided above as above.
The posting, transmission, storage, distribution or presentation of any Content through the Appcarry platform in violation of any and all applicable laws is prohibited. In case any violation of either this Agreement or Law otherwise is discovered, we may suspend the account and immediately initiate an investigation either internally or through any government agency, depending upon the circumstances of the case.
We may, at any and all times, in our sole and absolute discretion, during such an investigation, restrict your access in order to prevent any further possible unauthorized activity. Depending on the severity of the violation, we may, at its sole discretion, restrict, suspend, or terminate a User's account and/or pursue other legal remedies.
You agree to grant Appcarry the rights to reveal your identity (or any other related information collected on this service) if required by law or in case of any legal action or complaint arising from any situation caused by your use of this site. In exercising this right, we may ask you to provide any documentary or other forms of evidence supporting the Content you have stored/transmitted through Appcarry. If you fail to produce such evidence, we may, in our sole discretion, block/terminate your access without notice.
Appcarry may also randomly monitor the user accounts. Any such monitoring is done for evaluation purposes by supervisors and all the information is kept confidential. This is solely done to guarantee the highest level of service and to ensure accurate information is provided in a professional manner and may also help to detect any violations as stated above.
Termination
You are hereby informed that in case of non-compliance with the updated rules, Terms of Service Agreement including policies referred herein as posted on Appcarry.com, management has the right to immediately terminate the access or usage rights of the users to the services and also remove non-compliant information;
You further agree that we, in our sole discretion, may terminate your Appcarry account or password or use of any or all of the services, for any legal reason or complexities, including, without limitation, for improper use of any service or if we believe that you are not eligible to become a registered user. We may also in our sole discretion and at any time discontinue providing the Service, or any part thereof, with or without notice;
Further, at the time of registration at Appcarry, if you provide any information that is untrue, inaccurate, not current or incomplete or we have a reasonable ground to suspect that such information is untrue, inaccurate, not current or incomplete, or not in accordance with the Terms of Service Agreement. We have the right to indefinitely suspend or terminate your access and refuse to provide you with access to the Website.
Lastly, you agree that Appcarry shall not be liable to you or any third-party for any termination of your access to the Service in any of the above circumstances or due to any other unforeseen circumstance or legal complexities.
In any case, you may terminate your service at any point with or without cause by writing to us at info@Appcarry.com.
Monitoring and Support
To ensure users receive the highest possible level of service, Appcarry may randomly monitor the Appcarry services. Any such monitoring is done for evaluation purposes by supervisors and all the information is kept confidential. This is solely done to guarantee the highest level of service and to ensure accurate information is provided in a professional manner.
In case of any Grievance with respect of any Appcarry services, user can contact the grievance officer, whose details have been published later herein under these Terms.
You can obtain assistance with any technical difficulty that may arise in connection with the user's utilization of the Appcarry services by requesting assistance via email to info@Appcarry.com. We reserve the right to establish limitations on the extent of such support, and the hours at which it is available.
You are responsible for obtaining and maintaining all telephone, computer hardware and other equipment needed for its access to and use of the Appcarry Services and users shall be responsible for all charges related thereto.14. Governing Law
These Terms of Service is published in compliance of, and is governed by the provisions of Indian laws, including but limited to Information Technology Act, 2000 ("IT Act") and the rules, regulations, guidelines and clarifications framed thereunder; Consumer Protection Act, 1986 and Indian Contract Act, 1872 ("Contract Act"). Client agrees to use the service in compliance with applicable law and this Agreement and the annexed documents. Further,
The Terms of Service and the relationship between you and Appcarry shall be governed by the laws of India. The Courts of law at New Delhi, India shall have exclusive jurisdiction over any disputes arising under this Agreement or other related issue arising out of the use of this site or related services. Our failure to exercise or enforce any right or provision of the Agreement shall not constitute a waiver of such right or provision.
If any provision of the Agreement is found by a court of competent jurisdiction to be invalid, the parties nevertheless agree that the court should endeavor to give effect to the parties' intentions as reflected in the provision, and agree that the other provisions of the Agreement remain in full force and effect.
Client agrees that regardless of any statute or law to the contrary, any claim or cause of action arising out of or related to use of the Service or the Agreement must be filed within one (1) year after such claim or cause of action arose, or be forever barred.
Clients/Visitors who choose to visit these websites from other jurisdictions do so, on their own initiative. Those visitors are solely responsible for compliance with all laws, rules, and regulations, union, state, and local or foreign, applicable to the use of this website and information, content, material and services contained herein.
The section titles in this Agreement and annexed documents are for convenience only and have no legal or contractual effect.
Third Party Legal Actions:
It is our policy to respond with reasonable promptness to subpoenas and other legal process served on Appcarry that seek information, documents or other business records. Third parties wishing to serve such process may do so in writing to the following address: Appcarry (Legal) info@Appcarry.com Mobile:+91-9990166950
Intellectual Property
Unless otherwise stated, all the intellectual property used on the Website except those which have been identified as the intellectual properties of the other Parties shall remain the exclusive property of the Company. You may view and/or print pages from Appcarry.com for your own personal use subject to restrictions set in these terms and conditions. You must not:
Republish material from https://Appcarry.com
Sell, rent or sublicense material from https://Appcarry.com
Reproduce, duplicate or copy material from https://Appcarry.com
The materials on the Website or otherwise may not be modified, copied, reproduced, distributed, republished, downloaded, displayed, sold, compiled, posted or transmitted in any form or by any means, including but not limited to, electronic, mechanical, photocopying, recording or other means.
Subject to the provisions of this Agreement, each Party will continue to independently own his/her/its intellectual property, including all patents, trademarks, trade names, domain names, service marks, copyrights, trade secrets, proprietary processes and all other forms of intellectual property. Any improvements to existing intellectual property will continue to be owned by the Party already holding such intellectual property.
Without limiting the generality of the foregoing, no commercial use rights or any licenses under any patent, patent application, copyright, trademark, know-how, trade secret, or any other intellectual proprietary rights are granted by Appcarry to the Client, or by any disclosure of any Confidential Information to the Client under this Agreement.
Client shall further ensure that by availing of any website services, he is not infringing upon any intellectual property rights or other rights of any person or entity, or does not publish any content that is libelous or illegal while using services under this Agreement. Client acknowledges that Appcarry cannot and does not check to see whether any services or the use of the services under this Agreement, infringes legal rights of others.
Any use the materials contained on the Services and/or the Site without the prior written permission of Appcarry, is strictly prohibited and will terminate the membership. Such unauthorized use may also violate applicable laws including without limitation copyright and trademark laws and applicable communications regulations and statutes.
Further, the Client agrees to indemnify Appcarry against any and all liability, loss, damage, costs, legal costs, professional and other expenses, of any nature whatsoever incurred or suffered by the Client or by the Third Party whether direct, indirect or consequential arising out of any dispute brought by the third-party alleging infringement of his intellectual property rights by the Website, the Content or the Software.
Unless, you have been specifically permitted to do so or have a separate Agreement with us, you agree that you will not use any trademark, service mark, trade name, logo of any company or organization in a way that is likely or intended to cause confusion about the owner or authorized user of such marks, names or logos.
In case of any notice received under DMCA or otherwise for Intellectual Property violation. Appcarry reserves the right to remove the content with or without issuing any notice to the Client, depending upon the seriousness of the matter.
Cookies
We employ the use of cookies. By using Appcarry's website you consent to the use of cookies in accordance with Appcarry's privacy policy.
Most of the modern day interactive web sites use cookies to enable us to retrieve user details for each visit. Cookies are used in some areas of our site to enable the functionality of this area and ease of use for those people visiting. Some of our affiliate/advertising partners may also use cookies.
Linking to the Web Site
The following organizations may link to our Web site without prior written approval:
Government agencies;
Search engines;
News organizations;
Online directory distributors when they list us in the directory may link to our Web site in the same manner as they hyperlink to the Web sites of other listed businesses; and Systemwide Accredited Businesses except soliciting non-profit organizations, charity shopping malls, and charity fundraising groups which may not hyperlink to our Web site.
These organizations may link to our home page, to publications or to other Web site information so long as the link: (a) is not in any way misleading; (b) does not falsely imply sponsorship, endorsement or approval of the linking party and its products or services; and (c) fits within the context of the linking party's site.
We may consider and approve in our sole discretion other link requests from the following types of organizations:

Commonly-known consumer and/or business information sources such as Chambers of Commerce, American Automobile Association, AARP and Consumers Union;
dot.com community sites;
Associations or other groups representing charities, including charity giving sites,
Online directory distributors;
Internet portals;
Accounting, law and consulting firms whose primary clients are businesses; and
Educational institutions and trade associations.
We will approve link requests from these organizations if we determine that: (a) the link would not reflect unfavorably on us or our accredited businesses (for example, trade associations or other organizations representing inherently suspect types of business, such as work-at-home opportunities, shall not be allowed to link); (b)the organization does not have an unsatisfactory record with us; (c) the benefit to us from the visibility associated with the hyperlink outweighs the absence of Appcarry; and (d) where the link is in the context of general resource information or is otherwise consistent with editorial content in a newsletter or similar product furthering the mission of the organization.
These organizations may link to our home page, to publications or to other Web site information so long as the link: (a) is not in any way misleading; (b) does not falsely imply sponsorship, endorsement or approval of the linking party and it products or services; and (c) fits within the context of the linking party's site.
If you are among the organizations listed above and are interested in linking to our website, you must notify us by sending an e-mail to meraj@appcarry.com. Please include your name, your organization name, contact information (such as a phone number and/or e-mail address) as well as the URL of your site, a list of any URLs from which you intend to link to our Web site, and a list of the URL(s) on our site to which you would like to link. Allow 2-3 weeks for a response.
Approved organizations may hyperlink to our Website as follows:
By use of our corporate name; or
By use of the uniform resource locator (Web address) being linked to; or
By use of any other description of our Web site or material being linked to that makes sense within the context and format of content on the linking party's site.
No use of Appcarry's logo or other artwork will be allowed for linking absent a trademark license agreement.
Further, without prior approval and express written permission, you may not create frames around our Web pages or use other techniques that alter in any way the visual presentation or appearance of our Web site.
We reserve the right at any time and in its sole discretion to request that you remove all links or any particular link to our Web site. You agree to immediately remove all links to our Web site upon such request. We also reserve the right to amend these terms and conditions and its linking policy at any time. By continuing to link to our Web site, you agree to be bound to and abide by these linking terms and conditions.
Removal of links from our website
If you find any link on our Website or any linked website objectionable for any reason, you may contact us about this. We will consider requests to remove links but will have no obligation to do so or to respond directly to you.
Whilst we endeavor to ensure that the information on this website is correct, we do not warrant its completeness or accuracy; nor do we commit to ensuring that the website remains available or that the material on the website is kept up to date.
Electronic Communications
Any notice or other communication required or permitted to be delivered to Appcarry under this Agreement shall be in writing unless otherwise specified and shall be deemed properly delivered when sent to our contact address specified on the Contact Page by registered mail or courier. Any communication shall be deemed to have been validly and effectively given, on the date of receiving such communication, if such date is a Business Day and such delivery was made prior to 18:00 hours local time, and otherwise on the next Business Day.
When you visit the Site or send emails to us, you are communicating with us electronically. You consent to receive communications from us electronically. We will communicate with you by email or by posting notices on the Site. You agree that all agreements, notices, disclosures and other communications that we provide to you electronically satisfy any legal requirement that such communications be in writing. And, by special permissions, you may opt for electronic communication in communicating with us by writing to info@appcarry.com.
Entire Agreement
This Terms of Service Agreement constitute the entire agreement between the parties with respect to the subject matter hereof and supersedes and replaces all prior or contemporaneous understandings or agreements, written or oral, regarding such subject matter. The Agreement shall be governed by the Laws of India.
Grievance Officer
1. Appcarry shall address any grievances of users, whether registered or not, with respect to website content or any other aspects connected therewith, in a time bound manner. For this purpose, Appcarry has designated the following person as Grievance Officer in terms of Information Technology Act, 2000:
Mr Meraj Siddiqui Registered Address: -1 B1/A5 First Floor Mohan Co-Operative Industrial Estate, New Delhi, Delhi – 110044 Email: support@appcarry.com Phone: +91-9990166950 Hours: 3 PM – 7 PM
The appointed officer shall acknowledge the complainant within 36 hours electronically and resolve the matter within 30 days in terms of the Information Technology Law if it is received through a government agency or based upon court order (in accordance with order of Hon'ble Supreme Court of India). In other cases, Appcarry would look into the matter and try to resolve as far as possible.21. Disclaimer
Appcarry authorizes you to view and access the content available on the Website solely for the purposes of availing the Services offered by Appcarry.com, including but not limited to visiting, using, ordering, generating, analyzing and communicating only as per these Terms of Service. By the use of the online services at Appcarry, you acknowledge and undertake that you are accessing the services and transacting at your own risk and are using your best and prudent judgment before entering into any transactions through the website. Appcarry makes no representations about the quality of the products/services offered or the accuracy of statistics/analysis generated at Appcarry. Users use the Services at their own risk.
The service is provided by Appcarry on an "as is" and "as available" basis. To the maximum extent permitted by applicable law, we exclude all representations, warranties and conditions relating to our website and the use of this website (including, without limitation, any warranties implied by law in respect of satisfactory quality, fitness for purpose and/or the use of reasonable care and skill). Further,
We make no warranty on any results obtained by the use of the service.
We make no warranty on the accuracy or reliability of any information obtained by the use of service.
We make no warranty that the service will meet your requirements.
We make no warranty on any technical defects in the website will be corrected.
We make no warranty that the service will be persistent, timely, secure, error-free.
We are neither responsible nor liable for any result that arises due to the use of service by any user or content posted or transmitted through the site by any user.
We do not assume any responsibility or liability for any illegal communication or Content posted or transmitted on the Site by any User or any third party.
But nothing in this disclaimer will:
Limit or exclude our or your liability for death or personal injury resulting from negligence;
Limit or exclude our or your liability for fraud or fraudulent misrepresentation;
Limit any of our or your liabilities in any way that is not permitted under applicable law; or
Exclude any of our or your liabilities that may not be excluded under applicable law.
All liability, whether civil or criminal arising out of any Content that is hosted or transmitted through the servers (including but not limited to messages/communication of electronic or any other means) will be of that User / third party who has Hosted such Content or communicated/transmitted such content or information. We reserve the right to claim damages from such User / Third party that it may suffer as a result of such Content Posted on the Site or transmission of information through the communication of any kind.
Further Appcarry assumes no responsibility or liability from any loss incurred by any information presented online, either upon the website or otherwise. Users using the services herein are solely responsible for their actions. As we do not warrant the accuracy, completeness, or usefulness of any information presented therein. User expressly agrees that use of the service is at the user's sole risk.
Furthermore, as a Appcarry user… you acknowledge and accept the inherent risks, characteristics and limitations of the internet, particularly in terms of technical performance of the website, response times to view, verify or transfer information; and the risks inherent in all third-party links, connections and transfers via the internet. Accordingly:
Appcarry shall be not responsible or liable for the authenticity, accuracy, completeness, errors, omission, typographical errors, disruption, delay in operation or transmission, communications line failure, interruption or malfunction (including but not limited to any kind of technical aspects), deletion, defect of any information, reports, service stops functioning due to technical problems, certain features not functioning at any point in the web site or any part thereof;
Any material and/or data downloaded or otherwise obtained through the use of the Appcarry is done at user's own discretion and risk and that user will be solely responsible for any damage to user's computer system or loss of data that results from the download of such material and/or data. In this respect, you agree that it is your responsibility to install an anti-virus program locally on your computer and protect against any viruses, bugs or any other harmful computer routines;
Appcarry is not liable for any result that may arise from your contact, communication in any form, coordination, relation or transaction; either with advertisers, sponsors, other websites or any resources that may be hyperlinked or any third party, and you are liable for any contract/term that may or shall be established by you, with these third parties, advertisers, sponsors, other websites or resources that may be hyperlinked in the web site or any part thereof;
Appcarry has no control over other website or resources which are provided by companies or persons and is not liable for any loss or damage which may be incurred by you or by your use of service to any third party as a result of the availability of any information contained on-site or external sites or resources or any advertisement or hyperlinks, etc. in the web site or any part thereof;
Appcarry cannot guarantee that the information submitted to, maintained on, or transmitted from our systems will be completely secure and transmission of information over the Internet is susceptible to possible loss, misrouting, interception and misuse;

To the extent that the website and the information and services on the website are provided free of charge, we will not be liable for any loss or damage of any nature.

For and on behalf of
Appcarry Private Limited
Throughout every step, we will be there for you!
Speak to an expert at Appcarry to discuss how we can help to improve your campaigns.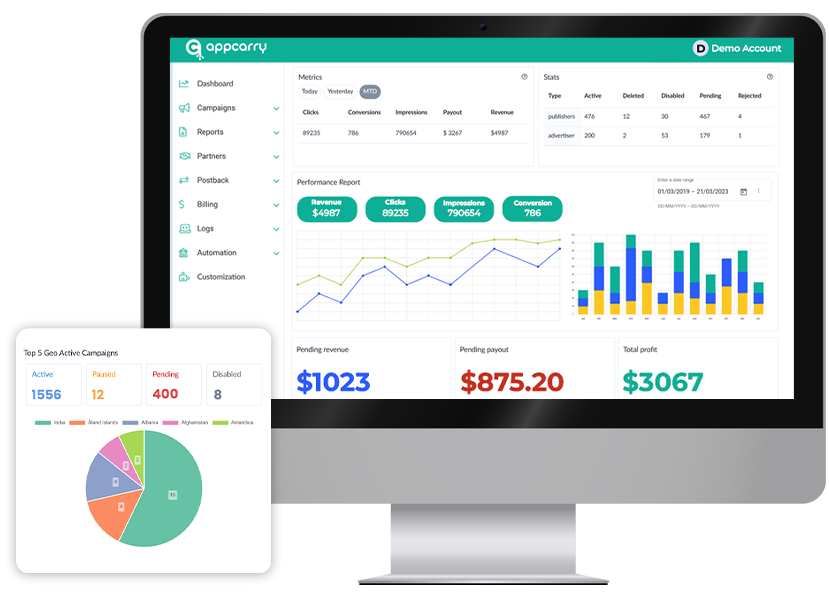 Subscribe to our newsletter
Join the 500+ people that uses Appcarry
---