Privacy and Data Protection with Appcarry
We are constantly evaluating our privacy guidelines and updating our platform to be compliant with every certification required by an Ad-Tech platform.
Appcarry and GDPR?
The General Data Protection Regulation (GDPR) is an important piece of legislation that came into effect on 25th May 2018. It has been designed to strengthen and unify data protection laws for all EU citizens.
What data needs to be protected under GDPR?
According to Article 4 of GDPR, personal data includes various digital identifiers. Other than the typical name, photos, email, the following information is also personal and hence needs to be protected:
IP addresses
Online identifiers
A user's location data
Biometric data (fingerprints and retina scans)
Behavioral and demographic profiling data
TOMs under GDPR
TOMs or Technical and organizational measures are prescribed measures to ensure the security of the processing of personal data. These may include deletion policies, a record of processing activities, and more.
There is no access, usage, or transmission of data without authorization.
For complete data privacy and security, all information is separate during processing whether it be test systems or production systems
All data is pseudonymized so no personal data can be assigned to a specific data subject without additional information being provided.
We make frequent backups and transfer them to remote sites to protect all stored data against loss.
How can you use GDPR to your advantage?
GDPR compliance enables you to easily store and process data locally and streamline user deletion and suppression rights requests.
Store & process customer data locally or within your preferred region.
Issue deletion requests from a simple interface or use Appcarry's HTTP API to delete a specified user's data.
Get confirmation upon the deletion of data to keep your users and company updated.
Block data collection for specific users and issue suppression requests to restrict user data from being sent anywhere.
Enable user data collection with a single API and compile user data for access and portability requests.
Enable a raw data integration or warehouse to organize data about a given user, so you can easily share it in a structured format if requested.
Automatically update user profiles in Appcarry whenever new information is received.
Appcarry and CCPA
CCPA or California Consumer Privacy Act is a California state law that introduces new data privacy rights to consumers and imposing limits on the collection and sale of personal information of California consumers by businesses. As a SaaS AdTech solution provider, we fully comply with CCPA rules. The requests of our clients with regards to provide or delete data are met with complete compliance.
Are you covered under CCPA?
CCPA only applies to California-based companies (or companies that do business in California) that have a hand in the decision-making process of how and why personal data is stored. These are the characteristics to look out for:
Making gross revenue of over $25 million per year
Buying, selling, receiving, or sharing personal information from over 50,000 consumers, households, or devices per year
Generating half or more of their revenue per year from selling personal information.
What information needs to be protected under CCPA?
As a service provider we protect the following information under the CCPA guidelines:
IP addresses
Email addresses
Account names
Social security numbers
Driver license numbers
Bank account numbers
Credit card numbers
Records of personal property
Biometric Information
Browsing history
Search history
Geolocation data
Professional or employment-related information, and more
Rights under CCPA
CCPA grants consumers of service providers a plethora of rights to preserve their privacy.
Consumers can access their personal data being collected and stored by a Business at any given time, twice a year.
Data should be delivered to the user in a suitable format, such as a readily accessed file or by mail.
Businesses have to include the consumer's rights within their privacy notice, covering the kinds of personal information they are collecting and
Businesses have to disclose if they will sell their users' personal information (what and to whom) for monetary gain to a third party.
Adults must be notified of their right to opt out of any business practice that sells personal information to third parties.
For children under 13, Businesses must acquire consent from the child's guardian before selling the child's personal data.
The consumer can request a Business to delete personal information about them which they have to do within 45 days.
No discrimination can occur, i.e. no charging of different prices or rates, denying app access in part or in whole, or providing a lower level of the app experience and quality.
Disclaimer
This is not legal advice, rather the information here is just to facilitate your understanding of GDPR & CCPA when working with third parties. We implore you to consult your own legal counsel with respect to interpreting your unique obligations under GDPR and CCPA and the use of a company's products and services to process personal data. For more information on our GDPR and CCPA compliance, get in touch with our team at support@appcarry.com.
Throughout every step, we will be there for you!
Speak to an expert at Appcarry to discuss how we can help to improve your campaigns.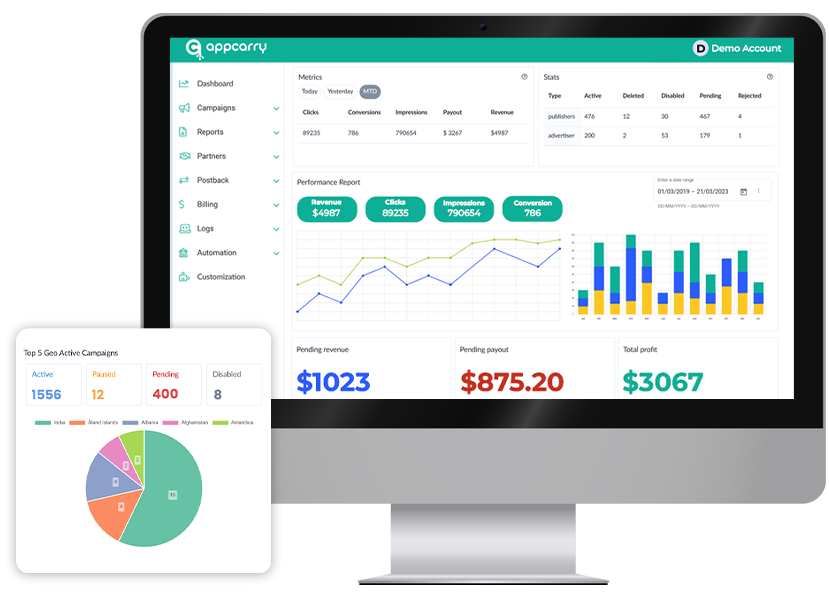 Subscribe to our newsletter
Join the 500+ people that uses Appcarry
---