Appcarry Billing Policy
Please read these terms of service and our Billing Policy carefully as they form a contract between You and Us and govern the use of and access to the Service(s) and Websites by You, Your Affiliates, Users and End-Users. In the event of a conflict between these terms of service and Our Privacy Notice, these terms of service shall prevail.
Appcarry is billed on a subscription basis. The subscription is billed in advance, while usage is billed in arrears. Your credit card will be priced on the first day of each month (unless the first falls on a weekend).
All cancellation requests must be received prior to the following month's bill being issued (i.e. if you wish to cancel, you must do so before the first of the following month). We cannot cancel accounts retroactively.
For new customers, your first invoice is automatically generated after your trial period ends. It is prorated to cover the remaining days in the month and to align your billing to a calendar month cycle. All invoices thereafter are generated on the 1st of the month. We bill in whole month increments only, with the exception of your first invoice or for account reactivation.
Customers on Contract: Your contract's terms succeed in these policies. Refer to your agreement for details. Customers demanding NET payment terms are subject to credit check. We reserve the right to accept or reject any such application at our preference.
Free Trial Policy
Every new Appcarry customer that comply with Appcarry's online agreement is likely for one free trial only, despite the number of accounts a customer opens.
If a Customer registers for a free trial of the Services, Appcarry will make the Services available on a trial basis and free of charge to the Customer until the earlier of the end of the free trial period or the start date of Customer's subscription.
If Appcarry includes additional terms and conditions on the trial registration Web page, those will apply as well. During the free trial period, the Services are provided "as is" and without a warranty of any kind,
Appcarry may suspend, limit, or terminate the Services for any reason at any time without notice, and
Appcarry will not be liable toward Customer for damages of any kind related to Customer's use of the Services. Unless Customer subscribes to the Services before the end of the free trial, all of Customer's data on the Service may be permanently deleted at the end of the trial and Appcarry may not be able to recover it.
Billing/Payments
Payment Terms & Methods: As soon as the payment is processed the invoice is generated from our end otherwise due upon receipt. To subscribe to our monthly services, we want a valid credit card on file that is accepted to process your monthly invoices. Amounts owed are charged to the card on file unless you request, and we approve a wire transfer.
Wire Transfer Fee Policy: All Appcarry customers are responsible for any and all fees associated with sending a wire from the originating bank. Appcarry absorbs the portion of the wire transfer fee charged by its bank or any intermediate bank(s) associated with receipt of the wire payment. The amount owed must arrive at our bank in full. The customer is responsible for any debt resulting from currency exchange and understands that any unpaid balance will be carried over to their next invoice.
Plan Modifications
Upgrade Policy: All customers who signed up for the services online are governed by the online agreement and have the ability to upgrade their account at any time. Upon upgrading your account, you agree to be charged for the difference between the Pro and Enterprise edition subscription fees. Upon upgrading, your account is immediately updated to the new Enterprise usage threshold. You can also submit an upgrade request by contacting your account manager or support@Appcarry.com.
Downgrade Policy: If your account was created via online sign-up and you do not have a custom contract, you can downgrade your account at any time by contacting your account manager or support@Appcarry.com. Downgrade requests are honored upon our receiving them. Billing is affected by the start of the next billing cycle; we do not prorate accounts or provide refunds for the time between the downgrade and the start of the next cycle.
Suspension & Termination
Cancellation & Refund Policy: All customers who signed up for the services online are governed by the online agreement and have the ability to cancel their account at any time. To prevent future billing on your account, you must complete your cancellation before the first of the upcoming month. You may also submit a cancellation request to support@Appcarry.com. Please note that since you may cancel your account at any time, we provide the refund for first month users within 14 days. We do not provide refunds for recurring customers. We bill in for your usage and in advance for your monthly subscription fee.
Throughout every step, we will be there for you!
Speak to an expert at Appcarry to discuss how we can help to improve your campaigns.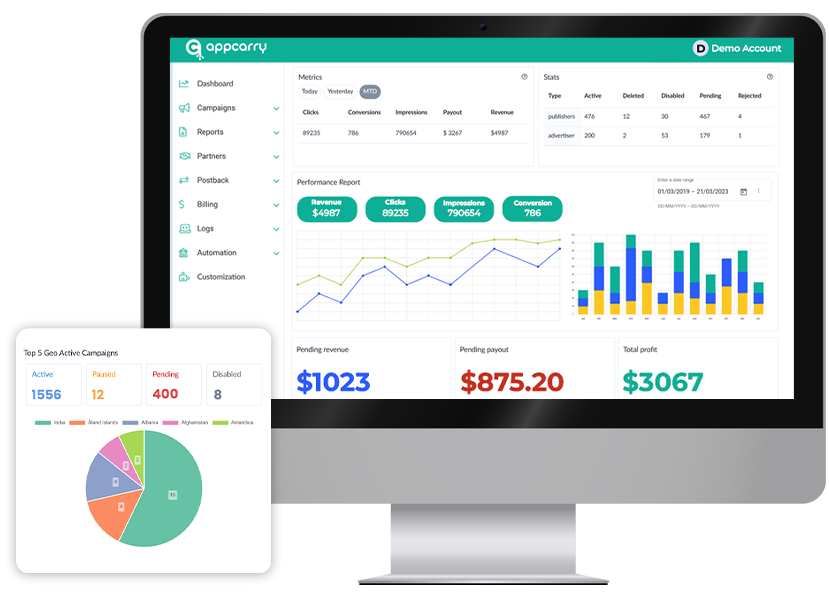 Subscribe to our newsletter
Join the 500+ people that uses Appcarry
---